The Adirondack Park is the largest state park in the U.S. - bigger than Yellowstone and Yosemite put together. At 6.1 million acres, it is America's largest state park outside of Alaska.
Recreation
Swimming, golfing, tennis, wind surfing, local volleyball, mountain climbing, skiing, ballooning, boating, hunting and fishing, white water kayaking, snowmobiling [there are over 500 miles of groomed trails, including 86 miles of snowmobile trails in the Forest Preserve. Wooded forests and vast wide-open expanses of cleared fields are abundant throughout the Preserve.
Pristine forests and dramatic mountains yard more than 30,000 miles of brooks and streams, 6,000 miles of rivers and almost 3,000 lakes and ponds.
Golf
There are numerous courses to play in the area.
Fishing
Plenty of fishing holes in and around the lake.
Horseback Riding
The 100± miles of NYS maintained Otter Creek trails are becoming a popular draw.
Bicycling
Adirondack Bicycling and Bike Touring Pages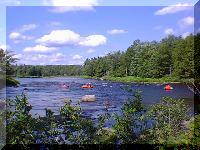 Surrounding Area
The Thousand Islands (e.g. Clayton, Alexandria Bay, Boldt Castle, etc.) Restaurants, Events, Hotels, Motels.

Kingston, Gananoque, etc. Ontario, Canada (delightful 50's style towns)

Lake Placid (great shopping, Olympic venues, golf, etc.)

Old Forge (shopping, water theme park, Bald Mt. hike, arts, golf, etc.)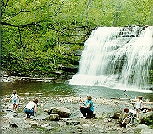 Pixley Falls State Park
11430 State Route 46
Boonville, NY 13309
Phone: (315) 942-4713

Pixley Falls State Park's main attraction is the 50-foot waterfall, close to the picnic area. This picturesque park also features steep, wooded hills and a mountain stream. A nature trail meanders through the forest and past Pixley Falls. The park has 22 stream side campsites and access to numerous miles of trout streams. A cross-country ski trail runs along the Black River Canal, which is just inside the park entrance.
Directions: Buffalo, Rochester, Syracuse: Thruway (I-90) east to exit 33 (Verona-Rome); Rt. 365 east to the city of Rome, Rt. 46 north to park entrance, six miles south of Boonville.
Snow Capitol of the East
Receiving an average snow fall of 200 inches, skiers, snowmobilers, skaters, cross-country skiers and others will find plenty of frozen lakes, trails, mountains, and ski resorts to find winter activities at there best. Eighty-six miles of marked trails and over 500 miles of trails wind trough dense forest and wide open spaces through this scenic Forest Preserve. The rugged mountain scenery, heavy winter snows, and a pleasant summer climate combine to make this a popular year-round resort area. The lake is close to all activities all year round.

New York State Snowmobile Association Web Site




Snowmobiling
With over 500 miles of groomed packed trails, this is the perfect snowmobiling destination. With trail-side dining, fuel, entertainment and accommodations, you can enjoy a safe fun-packed snowmobiling vacation in the great outdoors. Enjoy some of the finest riding in the east on professionally groomed and maintained trails.
Hunting
Deer, bear, rabbit, ruffed grouse, woodcock and turkey. There are 218 square miles of public land, four deer management units, 139,377 acres of forest preserve and state forests, and a 5,000-acre wildlife management area.

Very close by: natural wonders like Whetstone Gulf: a spectacular gorge. Whetstone Gulf State Park is built in and around a three-mile-long gorge cut into the eastern edge of the Tug Hill Plateau. The gorge is one of the most spectacular scenic vistas east of the Rocky Mountains. The park has 56 wooded campsites, a scenic picnic area along Whetstone Creek, a man-made swimming area and trails for hiking and cross-country skiing, one of which circles the gorge. Above the gorge is Whetstone Reservoir, stocked with tiger muskie and large-mouth bass for fishermen, and popular for canoeing.
Directions: Located off Route 26.6 miles south of Lowville, near the Adirondack Park.
Seasons/Hours: The park is open from Memorial Day through Labor Day for the summer season, and from December 15 through March 15 for winter recreation. Hunting for deer and waterfowl is permitted in season.

Very close by: White-water rafting: Moose River; Kayaking/canoeing: Black River

Very close by: Horseback riding: some100 miles of NYS Otter Creek trails.
The Adirondacks (Raquette Lake, Speculator, Blue Mt Museum, etc.) [There are some 2500 lakes in the Adirondack Park!]

Saratoga (outstanding performing arts center, horse racing, shopping, etc.)

Cooperstown
From the foothills of the Catskill Mountains, to the glimmering shores of Otsego Lake, Cooperstown and Oneonta offer a unique combination of big-city excitement and small-town charm. Just a few hours north of New York City, visitors can enjoy superior Cooperstown lodging and year-round attractions, including the National Baseball Hall of Fame and Museum, Fenimore Art Museum,  The Farmers' Museum, Brewery Ommegang, Fly Creek Cider Mill, The Glimmerglass Opera, and much more!  You'll find plenty of reasons to be a fan!

Utica (shopping, museums, brewery tour, etc.)
Boilermaker Race.

Turning Stone Casino (plus world class golf and nightclub shows)

Syracuse (shopping, Carrier Dome, State Fair, etc.)
[The largest mall in the world (Destiny USA) is planned to be built there.]
Finger Lakes (winery tours, Skaneateles, Watkins Glen, wine festival, etc.)

The Great Lakes: Lake Ontario (Oswego, Sacketts Harbor, boating, etc.)